The 10 most funniest moments on stage were listed by Ultimate-Guitar. Here's the list:
Metallica Exploding the Stage
At the end of the 'Cunning Stunt' concert, Metallica's stage was set to appear to explode, and collapse, James Hetfield fell on the ground, some dude was set on fire and the technician dangled from the ladder helplessly, but the audience seemed to like it a lot.
Elton John Stage-Bombed Iggy Pop by Wearing a Gorilla Suit
In 1973, during one of Iggy's concerts with The Stooges, Elton John climbed the stage in a gorilla suit, scaring the crap from the poor drugged Iggy. Iggy later wrote in his autobiography "I was unusually stoned that evening to the point of barely being ambulatory so it scared the hell out of me"
And that's Sir Elton John in his gorilla costume.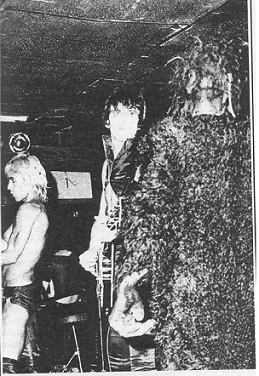 Peter Steele Messing with Pantera
Type O Negative and Pantera were good friends so it shouldn't come as a surprise that Peter Steele wrecked chaos during the Pantera's performances occasionally.
Synyster Gates Went Chipmunk
In this sinister (pun intended) prank, bassist Johnny Christ,  pitch-shifted the vocals of Synyster Gates through his in-ear monitors to make them sound unmistakably Chipmunk-esque.
Metallica Sending Male Strippers to Queensrÿche Gig
In our recent article we told you about this prank, but in case you missed it, here's the summary by Kirk Hammett.
"When they started playing that song, we told the lighting guy to light up the male strippers behind them. So we're watching, the light went on, and the whole audience just started reacting in a very, very positive way. And because they didn't realize what was behind them, they just thought, 'This song must be really popular here!' But they didn't know that we had six male strippers bumping and grinding. And it was hilarious! I remember I was laughing so hard that tears were streaming down my face."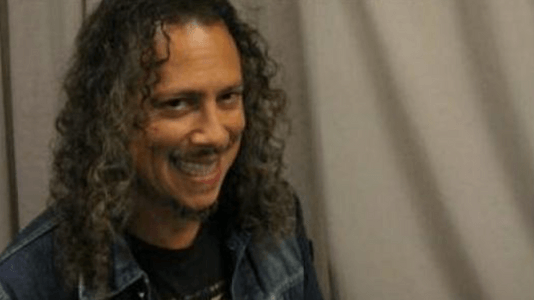 Kurt Cobain's Wheelchair
Prior to 1992 Reading Festival rumors spread throughout the festival crowd that Cobain was too ill to perform. Hearing of this, Nirvana's frontman decided to address these rumors by pranking the audience and getting to the stage in a wheelchair with a hospital gown and old woman's wig.
Taylor Swift goes KISS on Keith Urban
When Keith Urban performed one of his song called "Kiss a Girl" Taylor Swift took the stage in the full KISS attire. No, she didn't get sued by Gene Semmons afterwards.
Motorhead Trolls Testament
Phil Campbell rode a horse on stage during Testament's gig while dressed up and everything. Guys from Testament quickly adapted and started playing Mexican tunes. Lots of fun.
Chad Smith Gets Showered With Spaghetti by Foo Fighters
Food Fighters showered Chad Smith with spaghetti during one of RHCP's gigs. The drummer took it with dignity, kept playing and managed to end the song before he ran for cover while saying 'They're dead little fuckin' Foo Fighters!".
Brad Paisley Got Arrested for "excessive noodling"
Though this one is not exactly an onstage prank it would be a mistake not to tell about it.
One day, the Brad Paisley private plane was met by police officers at the Nashville airport, and he was promptly handcuffed as soon as his feet hit the tarmac.
"You've gotta be kidding me! I've never done anything wrong in my life," a visibly nervous Paisley said to the officers after they told him they had a warrant for his arrest for his involvement in "some serious crimes." Those "crimes" turned out to be "excessive noodling," to which guitar virtuoso Paisley admitted his guilt, his fear turning to laughter as he sat in the back of the police car.
The whole thing was rigged by his fellow country singer Jewel, and his friends who turned out to be not only retired police officers, but great actors as well.